One of the most wondrous aspects of the beautiful island of Tenerife is its climate. The weather is glorious, that is why the largest of the Canaries has earned the reputation of being one of the best year-round holiday hotspots. The sun shines for more days of the year here than most other places in the world – just one of the reasons people visit from January to December.
Of course the weather depends on the time of year that you travel and the specific places you visit. The south is always the warmest and sunniest with the least cloud, and the west enjoys more than its fair share of great weather, too. The north is also very warm, although there can be more rain and cloud in this part of the island compared with the rest.
The closer you travel towards Mount Teide National Park, Tenerife's volcanic region and location of Spain's highest peak El Teide, the more changeable the weather becomes. Naturally, as the altitude rises, the weather cools and at certain times of the year there is some snowfall here while the coast remains sunny.
The trade winds, together with the refreshing Gulf air currents, are the major weather factors that contribute to the climate. The minimum and maximum annual average temperatures in Tenerife are about 15ºC (59°F) in winter and 24ºC (75.2°F) in summer. 
As you can imagine, the Island offers a surprising variety of micro-climatic weather zones, enabling people to almost 'choose' their climate, depending on where they live. 
It sounds great doesn't it? If you fancy transporting yourself to a subtropical island that promises great weather, click here to discover a comprehensive list of hotels in the best locations, all of which come with a Spain-Tenerife recommendation. 
Are you interested in Lanzarote Weather and Climate?
Weather Forecast for Tenerife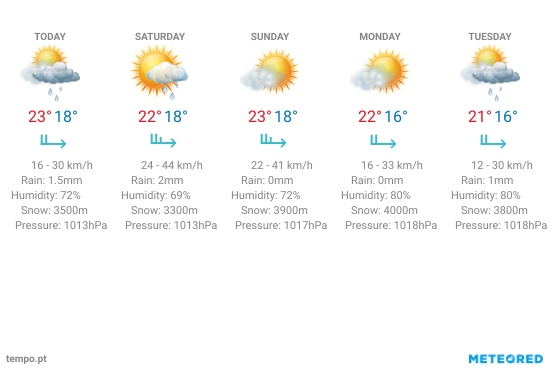 Average Temperatures in Tenerife
Average High/Low Temperatures in Tenerife
Average Sea Temperatures in Tenerife
Average Sunlight Hours
Averages Rainfall (mm/days)